LEARN MORE ABOUT OUR
Orthopedic & Neurological Orthoses (Braces)
We treat individuals of all ages, from children to seniors. Our Certified Orthotists develop life solutions for clients suffering from nagging injuries to severe neurological conditions.
During the initial appointment, a Clinical Certified Orthotist will conduct a physical assessment, review x-rays / scans, discuss the patient's medical history and lifestyle, examine the areas of concern and observe the patient's mobility.
Once the assessment is complete, the specific type of orthosis will be prescribed and precise measurements or moulds will be taken in order to fabricate the personal orthotic device. The Orthotist then fits the device and makes any adjustments necessary to ensure optimal functional use by the patient.
From the initial patient assessment to the final fitting, quality and comfort are the primary goals of the AOS Orthotics team. Our skilled orthotic technicians have trained specifically in the fabrication of orthopedic braces, foot orthotics and shoe modifications and takes painstaking care to ensure the final product is made to exact specifications. In keeping with our mandate to produce products of the highest standards, our fabrication lab is equipped with the latest fabrication and testing tools.
Custom othoses (braces) are made for many pediatric conditions including:
Cerebral Palsy

Hypotonia/Hypertonia

Clubfoot

Blounts Disease
Muscular Dystrophy

Torticolis

Legg Calve Perthes

Severs Disease

Scheurmanns Disease
Adult conditions requiring a Certified Orthotists' expertise include:
Osteoporosis

Spondylolysis

Polio

Carpal Tunnel Syndrome

Neuropathy
Tibialis Posterior Dysfunction

Pes Planus & Pes Cavus Feet

Charcot Marie Tooth

Charcot Neuropathy

Mortons Neuroma

Plantar Fasciitis

Metatarsalgia

Multiple Sclerosis
Frequently seen Injuries as a result of Trauma:
Spinal, lower & upper extremity fractures

Partial foot amputations

Nerve injuries

Soft tissues injuries

Spinal cord injuries
Commonly Fabricated Orthoses:
Rigid AFO

Hinged AFO

Anterior drape AFO

KAFO

Jewett Spinal brace

Providence Style Scoliosis brace
Crow walker

SMFO

WHO

WHFO

Thumb spica

EWHO

Scoliosis brace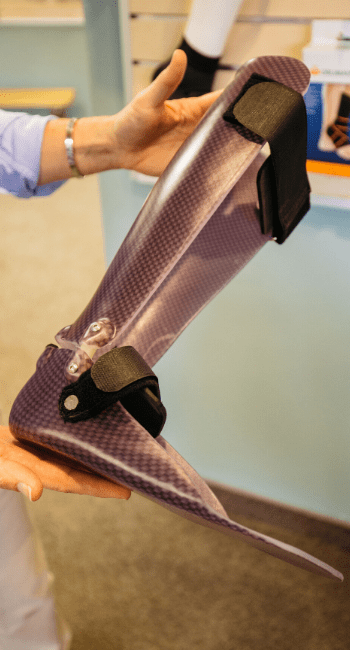 We offer many "Off the shelf" bracing options, which are custom fit to the body:
Saebo Line of Products
Saebo Stretch
The revolutionary Saebo Stretch dynamic resting hand splint helps neurologically-impaired clients maintain or improve motion while minimizing joint damage and pain.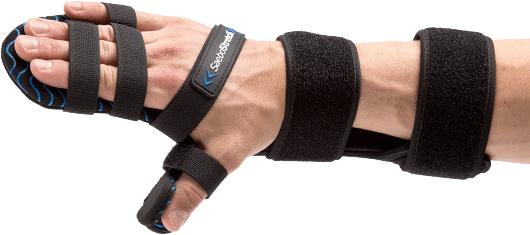 SaeboStep
The SaeboStep consists of a lightweight, uniquely designed foot drop brace that provides convenience and comfort while offering optimum foot clearance and support during walking.
SaeboStim
The SaeboStim Micro provides sensory electrical stimulation (SES) to the arm and hand using a specialized Electro-Mesh Garment The garments consist of an elbow sleeve (arm stimulation) and glove (hand stimulation)..